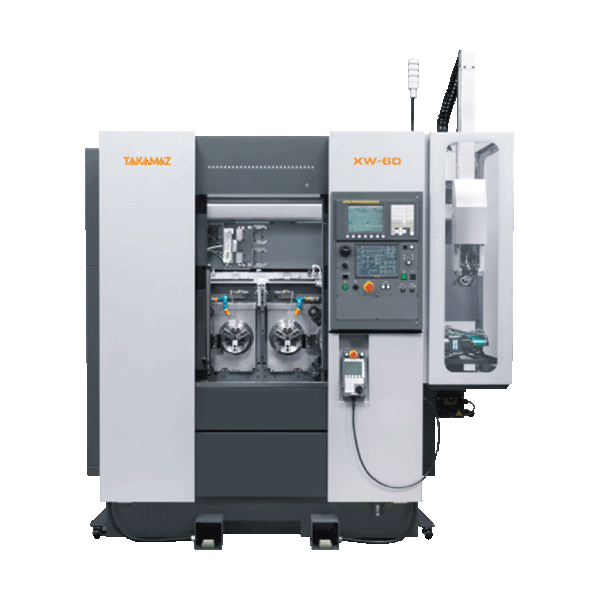 Click for larger image
Download Brochure
XW60/60M Twin Spindle
Twin Spindle – Twin Turret – Loader – Power Tooling (M)
Due to the turret and slide structure, the width of the machine with the loader transfer has been cut to 1,595 mm, the smallest in the class. (25% smaller than existing models) This reduces the workpiece transfer distance from the machine to peripheral devices, allowing the width of the production line to be reduced.
A 7.5/5.5 kW spindle motor is installed, and the increased power reduces spindle acceleration/deceleration times.
Comparison with previous models: Acceleration/deceleration time reduced 22% with max. speed of 4,500 min-1 .
A new 3-axis high-speed loader is installed. The loader was engineered in conjunction with the lathe, realizing an optimum transfer system for the machine to reduce cycle times. (The shortest cycle time for front and back machining with processes 1 and 2 is 17.5 seconds, an 8% reduction compared to previous models.)
Specifications

| | |
| --- | --- |
| Spindle Size / Design | A2-5 (A2-4) |
| Spindle Speed (r.p.m) | 4,500 (6,000) |
| Power (Kw) | 7.5 / 5.5 |
| Bar Capacity (mm) | 46Ø (36Ø) |
| Numerical Controller | Fanuc Oi-TF |
| Axis Slides Design | BOX SLIDES |
| X Axis Stroke (mm) | 125 |
| Z Axis Stroke (mm) | 140 |
| C Axis Stroke (deg) | (360) |
| Rapid Rates (m/min) | X:12 Z:20 |
| Chuck Size (mm) | 150 (200) |
| Machine Weight (Kg) | 4,700 (4,800) |
| Machine Dimension LWH (mm) | 1,950 x 2,005 x 2,650 |
| Gantry Loader | GANTRY 3 AXIS LOADER |
| Conveyor Option | STOCKERS / CONVEYORS |
| Tool Changer Style | SERVO ROTARY TURRET |
| Tool Capacity (pcs) | 8 (10) x 2 |
| Power Tooling | (10 TOOLS 4,000 RPM) |
| Chip Conveyor | SPIRAL / SLATBAND REAR |