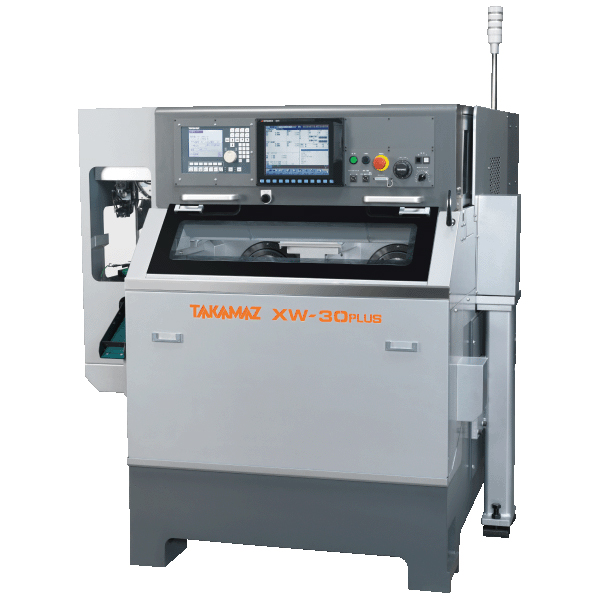 Click for larger image
Download Brochure Takamaz XW Series Brochure
XW30 PLUS Twin Spindle
Twin Spindle – Twin Platen – Loader
The XW30 machine is equipped with a two built in spindles with a high-efficiency motor with an output of 5.5/7 kW  built-in motor. The unit is compatible with chucks up to 4 inches, and a hydraulic cylinder can also be equipped as an option to enable stable mass production machining of work pieces that require a strong gripping force.
The slide ways are placed directly in front of the spindle and operator so allowing for excellent ergonomics for the operator while setting.
The reviewed cooling circuit has made the oil controller that used to be essential for short-cycle machining unnecessary*, reducing the cost and space requirements. * An oil controller is still required with some specifications.
Generally on a machine with 2 spindles, a heat imbalance arises in cases where different cutting is performed at the left and right sides. This leads to unstable accuracy. The XW-30 series is built with a cooling tank inside the bed for the two spindles to suppress thermal displacement, achieving stable accuracy over the long term (patented).
Space savings have been realised with a machine 1,340 mm wide (bed width: 1,040 mm), 2,120 mm deep and 1,500 mm high. Compliance with CE standards has been made possible too, enabling safe usage in Europe as well.
* Machines with CE specifications have different dimensions.
For more information and the complete range of machines please see our brochure
Specifications

| | |
| --- | --- |
| Spindle Size / Design | A2-3 |
| Spindle Speed (r.p.m) | 8,000 (6,000) |
| Power (Kw) | 5.5 / 3.7 |
| Bar Capacity (mm) | Solid (25Ø) |
| Numerical Controller | Mitsubishi M70V |
| Axis Slides Design | LINEAR RAILS |
| X Axis Stroke (mm) | 160 |
| Z Axis Stroke (mm) | 200 |
| Rapid Rates (m/min) | X:12 Z:20 |
| Chuck Size (mm) | 75 |
| Machine Weight (Kg) | 3,400 |
| Machine Dimension LWH (mm) | 1,340 x 2,120 x 1,500 |
| Gantry Loader | COMPACT 2 AXIS LOADER |
| Conveyor Option | IN / OUT CONVEYOR |
| Tool Changer Style | LINEAR PLATTERN |
| Tool Capacity (pcs) | 4 |
| Chip Conveyor | SPIRAL / SLATBAND REAR |