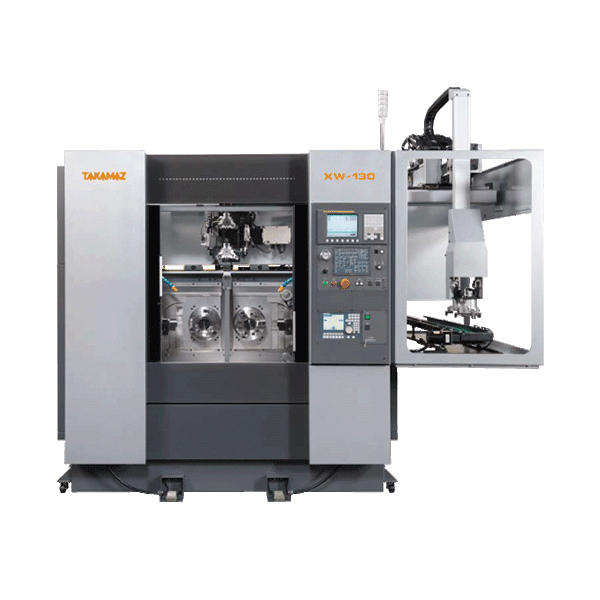 Click for larger image
XW130 /130M Twin Spindle
Twin Spindle – Twin Turret – Loader – Power Tools (M)
The machine is equipped with a power tool unit suitable for 8-inch chucks. It has a maximum capacity of 20 power tools, and supports the requirements of process integration through compound machining. In addition, in-process inventory has been reduced to zero by simultaneous front and back machining, delivering high productivity.
A unique spindle base cooling system (patented) that takes the circulation of coolant into consideration is equipped as standard and has achieved stable dimensional accuracy by suppressing thermal displacement of the bed and minimizing changes over time. In addition, a vibration damping construction (patented) with built-in functional materials that suppress vibration has been adopted, achieving high-accuracy machining. (Common with XW-130 / 200).
The low-center-of-gravity construction with spindle transferred on each side. Since hands can be folded back in addition to being turned, workpieces arranged in a line can be picked up easily without interfering with the loader on one side. Use of the high-speed shutter, patented Takamaz technology, reduces the time for opening/closing operation to under 0.5 seconds, or half the time on existing machines, achieving high productivity and shorter cycle times.
For more information and the complete range of machines please see our brochure
Specifications

| | |
| --- | --- |
| Spindle Size / Design | A2-6 |
| Spindle Speed (r.p.m) | 4,000 |
| Power (Kw) | 11 / 7.5 |
| Bar Capacity (mm) | 60Ø |
| Numerical Controller | Fanuc Oi-TD |
| Axis Slides Design | BOX SLIDES |
| X Axis Stroke (mm) | 170 |
| Z Axis Stroke (mm) | 220 |
| C Axis Stroke (deg) | (360) |
| Rapid Rates (m/min) | X:24 Z:24 |
| Chuck Size (mm) | 200 |
| Machine Weight (Kg) | 5,600 (6,900) |
| Machine Dimension LWH (mm) | 2,350 x 2,330 x 3,080 |
| Gantry Loader | GANTRY 3 AXIS LOADER |
| Conveyor Option | STOCKERS / CONVEYORS |
| Tool Changer Style | SERVO ROTARY TURRET |
| Tool Capacity (pcs) | 8 (10) x 2 |
| Power Tooling | (10 TOOLS 4,000 RPM) |
| Chip Conveyor | SPIRAL / SLATBAND REAR |