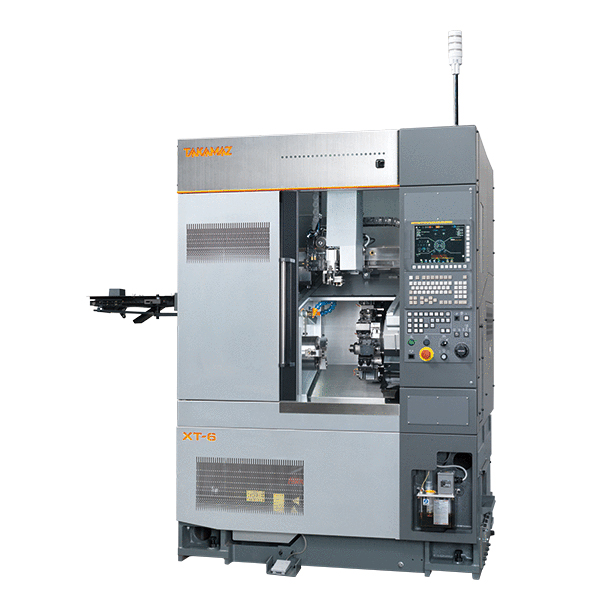 Click for larger image
Download Brochure Takamaz General Brochure
Download Brochure Takamaz XC-XT- XL Series Brochure
XT6 / 6M Single Spindle
Single Turret – Loader – Power Tool (M)
The XT-6 and XT-6M are the evolution of the flagship XC100 and XL machines. Takamaz have again increased strokes and efficiency while keeping the machine footprint to a minimum. The rapid rates of X axis: 18 m/min, Z axis: 24 m/min are a class leader on a box slide machine. The Z-axis motor output is improved to 1.8kw increasing the drilling capacity by 20% (compared to the previous model).
In addition to our reputable Σ loaders, the new FC loaders with higher operability and speed can now be selected. With a minimum load unload time of 2.8 seconds (subject to work holding) the XT can increase productivity over the XC100.
TAKAMAZ's original thermal displacement compensation system, spindle base cooling system, and other optional compensation functions help to maintain stable cutting accuracy even under harsh environments.
The M model can have 6 power tools.
For more information and the complete range of machines please see our brochure
Specifications

| | |
| --- | --- |
| Spindle Size / Design | A2-5 |
| Spindle Speed (r.p.m) | 4,500 (6,000) |
| Power (Kw) | 7.5 / 5.5 (11.5 / 7.5) |
| Bar Capacity (mm) | 26mm Ø (35mm Ø, 42mm Ø) |
| Numerical Controller | Fanuc Oi-TF |
| Axis Slides Design | BOX SLIDES |
| X Axis Stroke (mm) | 120 |
| Z Axis Stroke (mm) | 280 |
| C Axis Stroke (deg) | (360) |
| Rapid Rates (m/min) | X:18 Z:24 |
| Chuck Size (mm) | 150 (200) |
| Machine Weight (Kg) | 1,900 |
| Machine Dimension LWH (mm) | 1,360 x 1,370 x 1,731 |
| Gantry Loader | COMPACT 2 AXIS LOADER |
| Conveyor Option | IN OUT CONVEYORS |
| Tool Changer Style | SERVO ROTARY TURRET |
| Tool Capacity (pcs) | 8 |
| Power Tooling | (6 TOOLS 4,000RPM) |
| Chip Conveyor | SPIRAL / SLATBAND REAR |