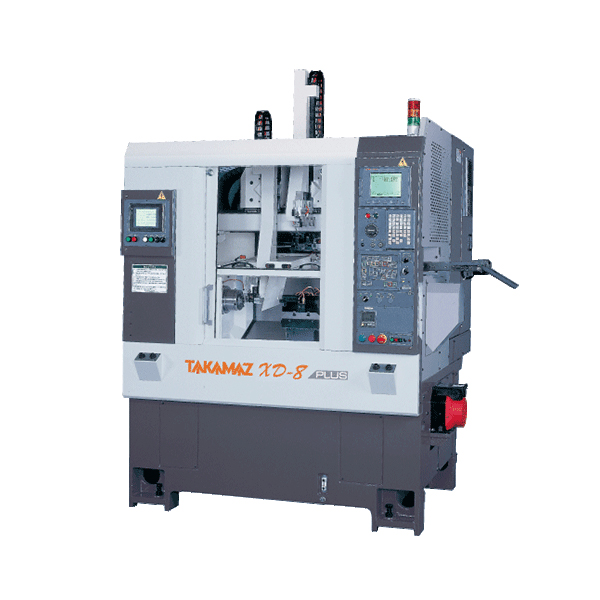 Click for larger image
Download Brochure Takamaz XD Series Brochure
XD8 PLUS Twin Spindle
Twin Spindle – Single Platen – Twin Loader
The Takamaz XD series has long been a winner with short cycle time requirements. With two spindles and two loaders the single platen tool station works between the spindles to ensure continues production.  The machine can run in many flow variations to accommodate single operation parts or two operation parts. The initial feeding of parts to machine can also be easily integrated with standard in and out conveyors on both sides of the machine.  These in turn can be fed by bowl feeders or connected to previous processes.
To answer the requirements imposed by severe operation time restrictions, the machine is equipped with a linear turret that does not need to be indexed. The machine has also been given a simpler construction, which improves its rigidity and so allows more accurate machining.
To answer requirements for faster cutting, a highly rigid spindle construction with a φ65mm bearing internal bore and maximum speed of 8,000 min-1 (Option) is adopted. In the standard specification, a pull-type collet chuck made by TAKAMAZ is fitted. However, chucks such as the T850 type outward-opening chuck that has been used previously can also be used, or alternatively a 5-inch power chuck could be fitted. Power chucks can be used with XD-8PLUS/XD-8TPLUS only Integral tool holders for simple setup (XD-8 PLUS: linear turret)
Integral tool holders has been adopted to improve rigidity, speed up setup changes, and save space. Due to the integral construction, chips are no longer trapped against the holder, and accidents that result from the trapping of chips are also prevented.
Specifications

| | |
| --- | --- |
| Spindle Size / Design | FLAT FACE 100 |
| Spindle Speed (r.p.m) | 4,500 (8,000) |
| Power (Kw) | 3.7 / 2.2 (5.5 / 3.7) |
| Bar Capacity (mm) | Solid |
| Numerical Controller | Fanuc Oi-TD |
| Axis Slides Design | LINEAR RAILS |
| X Axis Stroke (mm) | 200 |
| Z Axis Stroke (mm) | 380 (+_190) |
| Rapid Rates (m/min) | X:18 Z:24 |
| Chuck Size (mm) | 100 |
| Machine Dimension LWH (mm) | 1,580 x 1,550 x 1,935 |
| Gantry Loader | 2 OFF GANTRY 2 AXIS LOADER |
| Conveyor Option | IN OUT CONVEYORS |
| Tool Changer Style | LINEAR PLATTERN |
| Tool Capacity (pcs) | 4 (8) |
| Chip Conveyor | SPIRAL / SLATBAND REAR |